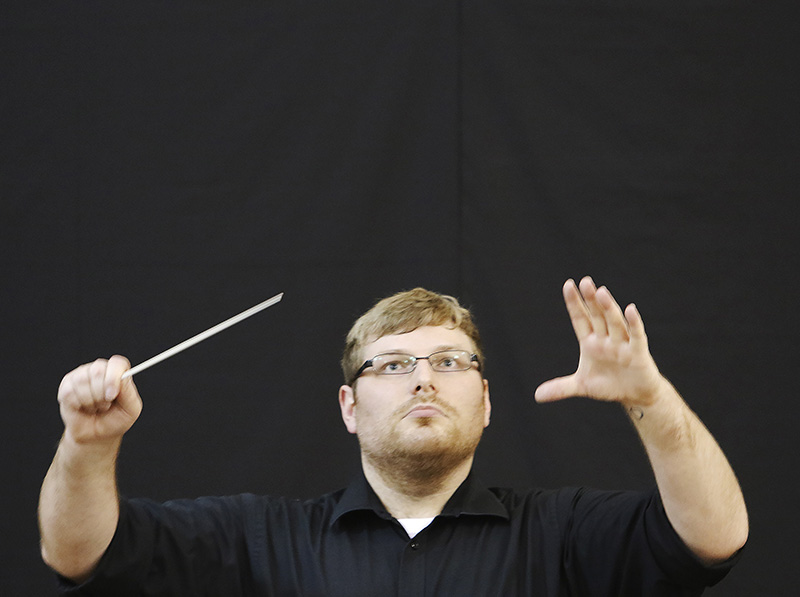 New England-based composer and conductor Timothy Burns has been actively composing music since he was 9. His works are frequently performed throughout northern New England by ensembles such as the Southern Maine Symphony Orchestra, Casco Bay Wind Symphony, and University of Southern Maine Wind Ensemble. In 2009 Tim placed third in the Walter Beeler Memorial Composition with The Cask of Amontillado, and received an honorable mention in the Craig and Janet Swan Composer Prize for his orchestral tone poem Of Rocks. Recently, the Da Capo Chamber Players played his piece Night Visions, and his string quartet (and so to dark) was performed by ETHEL.
As a conductor, Tim is often seen with the Casco Bay Wind Symphony, the Portland Youth Ensembles, and in his car where he leads the world's greatest orchestras while waiting at stop lights. In 2015, Tim founded the 207 Wind Orchestra, a group dedicated to playing the highest quality literature written for winds, where he serves as music director.
As a performer, Tim is an active horn player, and percussionist. Recently he's begun to study theremin and has always enjoyed playing the recorder. Tim holds degrees in music education (BA) and composition (MM) from the University of Southern Maine. His primary teachers have been Dr. Daniel Sonenberg and Dr. Peter Martin.
Tim currently lives in Northfield, Massachusetts where he enjoys playing playing far to much Dungeons and Dragons, obsessing over roller coasters, and spending time with his boyfriend Ben, and their cat Percy.